Need to outsource an order? We can totally help you.
Please note: Contract printing is for higher volume and sold to online retailers, website owners, legitimate re-sellers and storefront owners. It is not available to the general public. To visit our wholesale contract printing website please visit the following link for more info.
First Amendment Tees Co. Inc. offers contract garment printing also known as contract DTG services to numerous clients worldwide. We have the ability to customize a huge variety of apparel, including t-shirts, hoodies, outerwear, business wear, pants, and hats.
Our focus is full-color Direct-to-Garment DTG printing, a process that uses specialized printers to reproduce a digital image directly onto a garment. We use the latest printing technologies and high-quality, eco-friendly inks that produce rich, vibrant colors on both white- and dark-colored garments. We also specialize in contract garment printing, DTG, silk-screening, embroidery, rhinestones, sublimation services as well as many others.

But, are we trustworthy?
Of course we are! We treat your customer's apparel like our customers, we're also slightly obsessed with making sure our customers are happy. It's actually a good combination when you think about it. Here's how we work: we make sure your order meets the highest standards of quality in every aspect possible, from how the design appears on the garment to making sure each detail of the order is accurate and correct.
And, we do it fast. Most of our contract garment printing / contract DTG print orders are shipped to your customer within 48 hours. Large orders can take more time, but we always make sure we can meet your deadline - even if it means working extended hours and sleeping in the store. Okay, we don't really sleep in the store. Usually.

It's pretty simple.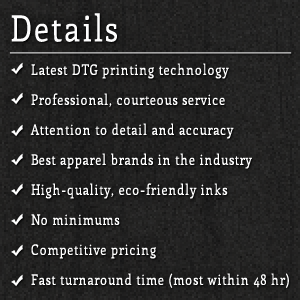 We value your business. We know our ability to be successful depends on the strength of the relationships we build with our customers. Our guarantee of quality, accuracy and timeliness isn't just words. We get it. We live it. This stuff is our life.
We offer garment printing runs of any quantity and never make you order a minimum number of pieces. Whether it's a single item to 10,000, you get exactly the amount you need, and regardless of the size of your order, you're always treated with professionalism and respect.
You're able to drop-ship us the products to be customized and breathe easy. We handle the design, prep and print, and ship directly to your customer. If they prefer, we offer blind shipping for privacy.
You can shop around for other companies to outsource your custom apparel orders to, but I doubt you'll find one as crazy about its customers and as passionate about perfection as we are. Call us today to discuss options - (814) 520-8163.
Also, don't forget to sign up for our e-mails to be the first to know about new products, special discounts, promotions and events. And if you're not socially awkward, Like us on Facebook, Follow Us on Twitter, Read our Tumblr, and Follow us on Pinterest.